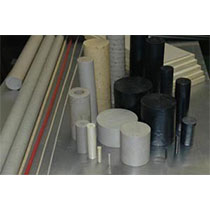 High Performance Plastics
High performance plastics differ from standard plastics and engineering plastics primarily by their temperature stability, but also by their chemical stability and mechanical properties, production quantity, and price.
There are many synonyms for the term high-performance plastics, such as: high temperature plastics, high-performance polymers, high performance thermoplastics or high-tech plastics. The name high temperature plastics is in use due to their continuous service temperature (CST), which is always higher than 150C by definition.
High Performance Plastics that we represent include:
Peek, ESD PEEK (Peek Mod), PEEK CA/ CF 30
PAI, PPSU, PES
ESD PVC/ PC/ ACRYLIC, POMALUX, SEMITRON 225/ 410/ 420/ 480/ 520
ESD PE/ DELRYN, ESD PE1000 (M-AST), MONOCAST R2/ R6
TORLON 4203/ 4301/ 5030/ 5530, ULTEM 1000/ 2300, VESPEL SP-1/ 21/ 22/ 211/ 3/ 202