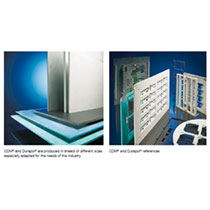 Composite Product for the Electronics Industry
At Specs Advanced Material Sdn. Bhd, we produce CDM plastics, which is used in several soldering applications and more. As a composite material, it has intrinsic properties of mechanical resistance and low thermal conductivity. The CDM Durapol from our unit passes through several levels of precision-based works. Expect the material to be great for use in heat sinks and other computer products or components too.
We take care to use all the latest technology to create several levels of strength and induce electrical properties. These days, the most common uses are on SMT pallets as a base material and with lamination. The strength and the ability to customize the CDM material have made it a great choice across the electronics industry. Whether it is for PCB wave solder pallets or others, there is no dearth of applications. Call us to check our range of products.
Solder Pallets for PCB Assembly
CDM® and Durapol®: high-performing solder pallet materials
CDM® and Durapol® solder pallet materials are recognized worldwide and appreciated for their high temperature resistance, good fabrication qualities, chemical resistance, electrostatic dissipative properties and their ability to be detectable by sensors.
Due to excellent retention of mechanical strength at high temperatures, the structural composition of CDM® and Durapol® materials prevents deformation during the different process operations. This ensures pallet longevity and permits extensive production cycles.
Exceptional dimensional stability and flatness, precise thickness tolerances and excellent machining qualities contribute to solutions that meet performance needs.
Reliability and safety products
Von Roll products are engineered to provide passive component safety through controlled electrostatic dissipation (ESD). In order to meet the strict ESD safety measures that prevail in modern production areas, Von Roll has developed grades of CDM® and Durapol® materials that exhibit dissipative properties.
CDM® and Durapol®: machined solder pallets
Solder wave, SMT, selective soldering process: whatever the soldering application CDM® and Durapol® sheets can be machined into pallets according to customer requirements.
The properties of CDM® and Durapol® when converted into pallets provide the following benefits:
Significant reduction in solder defects by holding PCB flat and stable during soldering process
Heat protection of sensitive components thanks to pockets, thin wall machining design of pallets
Prevention of damage caused by electrostatic discharge thanks to dissipative properties of material
Increased productivity and handling reduction
Low heat absorption and weight compar ed to aluminium fixtures
Very good corrosion resistance compared to traditional composite materials and aluminium
Being an expert in the machining of solder frames based on CDM® and Durapol® materials, Von Roll works in association with various partners.
Engineering and design departments worldwide specialized in the manufacture of carriers and pallets.
CAD-CAM equipment is linked to CNC machining centers.
The most suitable chemical and manufacturing processes are selected by our engineers in order to manufacture successful products compliant with the specifications of the PCB assembly processes.
Design and manufacturing departments work closely together to meet ever-increasing customer demands. The improved product performance and zero-defect processes are our focus.